Tuesday, July 28, 2009 at 09:08PM
I had a really quiet weekend, thanks to yet another migraine. I had to come home from work Friday morning, but it was tolerable by Saturday, and lucky for that, because...
we got KITTENS!
It may seem too soon after Puss' passing, but the house really felt empty without a cat in it, seeing as my parents have had them consecutively since they got married. So mom and Sarah searched on Petfinder, a great way to find a worthy pet to rescue, and saw that a rescue organization was doing an adoption day at the local Petsmart this past weekend. There was a particularly cute male tabby kitten there, so off we all went to see.
We managed to make dad cave in and get two, as soon as he got to hold one. :) Must be some kind of record for changing his mind! But we really felt in all fairness that if we were going to have a cat that's more indoor than outdoor (a big change for us), they should have a playmate.
So let me formally introduce you to Potter (who we could swear is part bobcat):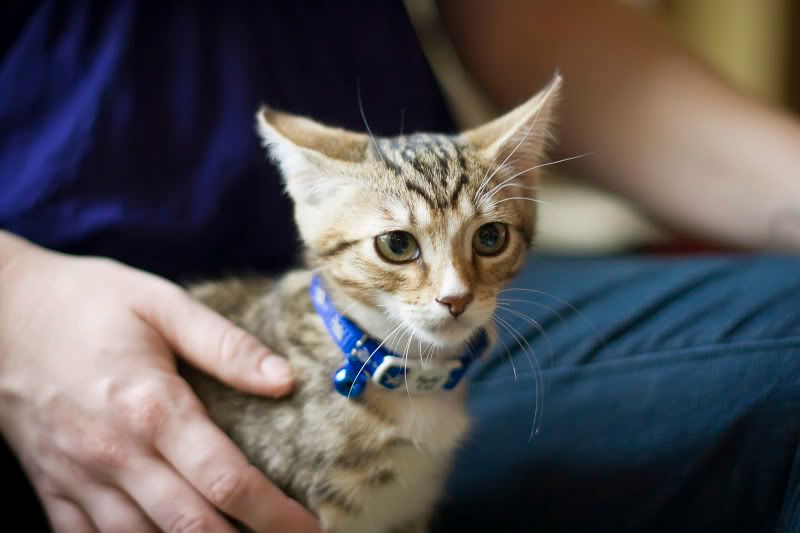 and Gizmo (after the original Gremlin in the movie):
Yes, they're ridiculously cute. Yes, they're clearly going to be the kings of the household. And I think we're okay with that.
When we brought them home, we put the dogs outside to let them adjust in peace. Unfortunately, I had no idea just how nuts Dante would be about them! He never pants, ever. At most Greyhounds open their mouths when its extra hot. And yet here he is, trembling and panting away:
Too funny. Poor guy just wanted new playmates, but they arched and hissed immediately on seeing him.
They've relaxed quite a bit now, but Dante really knows how to hold a grudge and hasn't gotten over them swiping him across the nose. Ted, as is typical for him, just loves to follow them around and watch them play.
The biggest change for us is having a litter box, but we got one that's more like a carrier with a flap so there's no smelly issues. Otherwise we're just enjoying watching them play, and realizing we don't really need TV anymore. :)
What's struck me is how they already, at 15 and 12 weeks, have such defined personalities. Potter, the older but smaller one, it's more demure and likes to snuggle under low surfaces, but has no problem cuddling and loves to have his belly rubbed.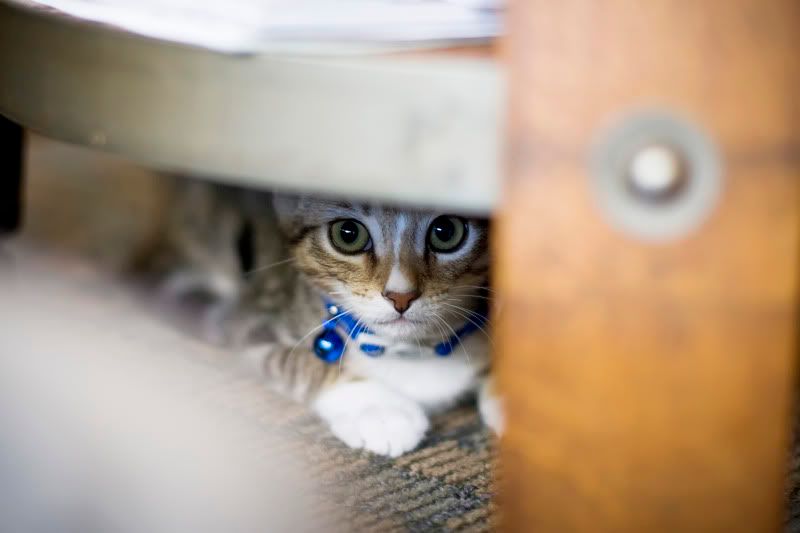 Gizmo, more outgoing, loves to head butt and nuzzle your face, meows like he's dying when he finds himself alone in a room and loves to surprise the dogs by coming up behind them and hissing like they've invaded his space. They both purr like motorboats when they're cuddled, and I think I just about died from the cute overload when they snuggled in the same bed and started cleaning each other!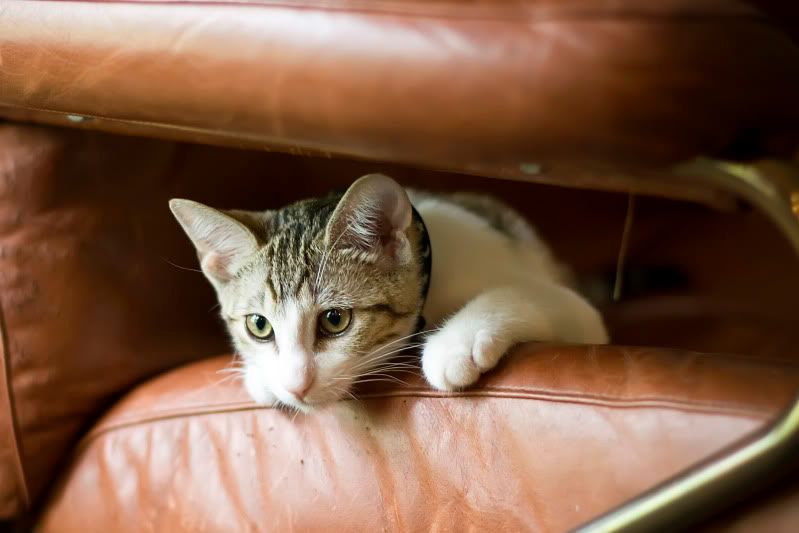 I apologize for the cuteness overload I've passed on to you, dear reader. Hopefully one day you'll find it in yourself to forgive me.
I'm off to (hopefully) be head-butted.