Monday, August 31, 2009 at 11:27AM
In a word, it was AWESOME. It took a ton of planning and coordination, but we managed to pull it off! The hardest part was not letting something spill - dad kinda did at one point ("aren't we seeing Karl Saturday anyway?") but luckily we Ellingsens are really good at the conversation distraction game.
Mom's 50th birthday was actually Sunday, but it all started when our good friend Lesley arrived from South Carolina on Wednesday. God love the woman, she flew into LAX midday and rented a car to get herself down to the house, where Sarah could let her in. We started dinner once I got home, and when mom finally got home herself, there was Lesley sitting calm as can be in the kitchen! :) We had completely surprised her! Mom just couldn't get over it, she kept saying "I just can't believe you're here!" Biggest smile on her face that I'd seen all week.
[In fact, it's SO hard to slip something past mom that after I cleaned the bathrooms the night before, I sprayed my perfume to mask the smell of cleaner because I knew she'd wonder why we were randomly cleaning!]
Even more reason to love Lesley - she went to the grocery store Thursday and made us all a lovely salmon and risotto dinner (with help from Lars on the grill). Then Friday she went down to Carlsbad to visit a friend and mom took the day off to play and visit the Irvine Museum.
Saturday morning we had already made plans to go see the Bradbury Building in downtown LA, so we went ahead and did that, minus one: Dad faked a bad back so he could stay home and put together the new hammock he got for mom, plus get the house ready for the surprise party. I think from now on it's going to be hard to get her to believe him! ;)
We had an awesome time wandering around downtown, except for the heat - it hovered around 100 and was hot and humid, not to mention the shite air quality from all the fires. I must say, it's a travel-starved shutterbug's paradise. I'm sure I'm not the only one to find the juxtaposition of urban retailers and older, stately buildings fascinating! (That's all the 10+ letter words I'll be using this month. You're welcome.)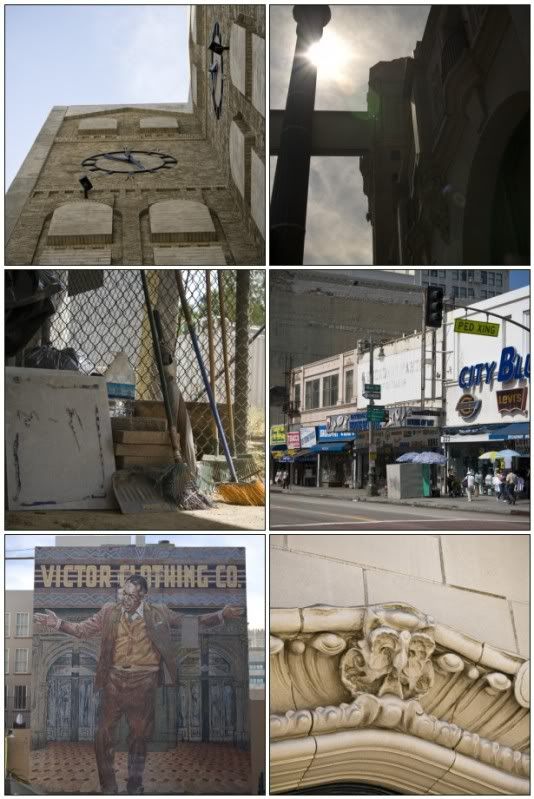 The Bradbury was amazing, even though we could only be on the first floor.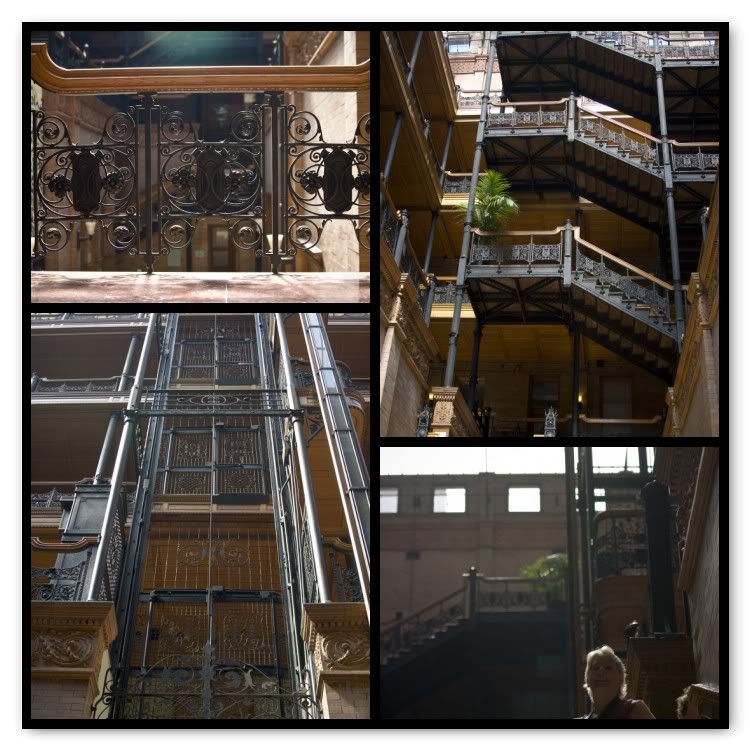 Practically around the corner is the giant senior housing project that my mom's company is doing the interior design for.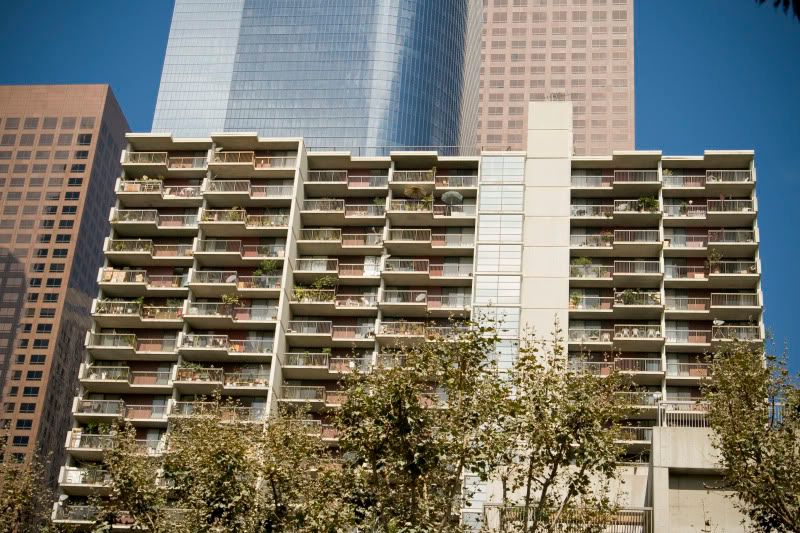 At that point it was too darn hot, so we headed over to the Urth Caffe for lunch. Delicious!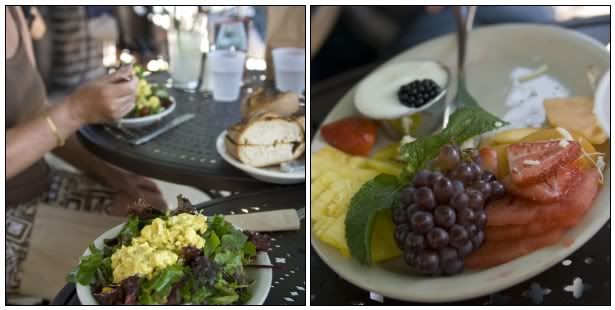 Then it was back down to the house for a bit of a rest and to freshen up, plus drop off Lars and Sarah on the pretense that they didn't want to go shopping, of course. Lesley had already convinced mom that she wanted to go to South Coast Plaza because a new Sur la Table had just opened up, and of course once there we dragged her into every shop. Luckily her good manners dictated that she had to listen to her guest's requests. ;)
Finally it was 6pm and safe to head home (she had gotten kind of suspicious with all my vigorous texting, but I just kept blaming it on different friends). The best part of our deception? Lars called her and asked when she'd be home and what kind of potatoes she wanted, because they were going to make the roast she'd taken out of the freezer. I think that clinched the surprise for us. :)
Long story short(ish), we get there, pull in the garage, head inside and out pops Karl with camera in hand. Everyone was so quiet that at first she thought it was only him. Then she turned the corner, and there was everyone lined up in the hall! SURPRISE!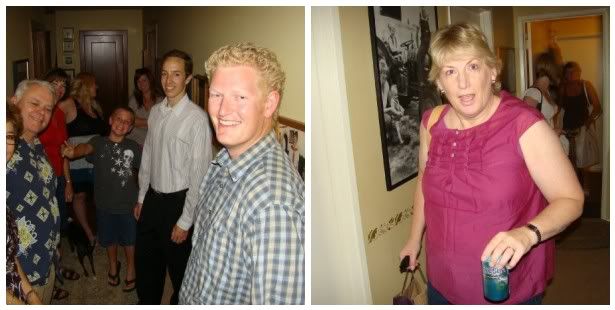 The rest of the night was lovely - good conversation, good food (from a new local place called the Olive Pit), good cake (from the always-wonderful Beverly's Best), and just a damn good time.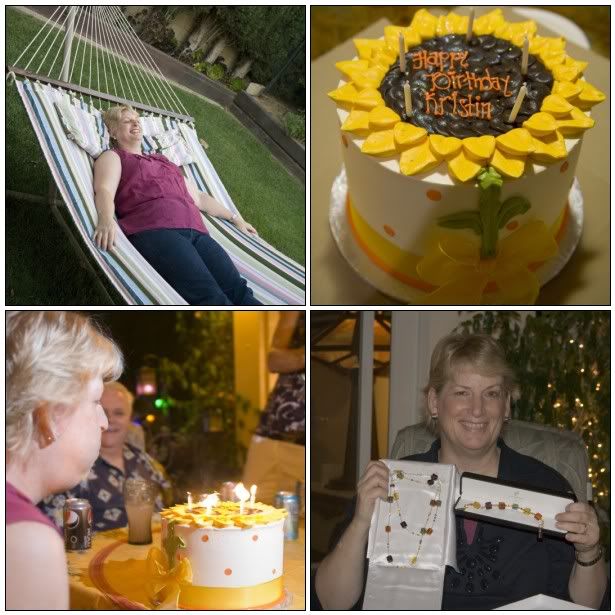 Are you still with me? Because the fun didn't end there. I'd gotten mom to sign up for the free entry on your birthday from Disneyland, so to beat the heat we got up early to get to the park by 8am when it opened. Mom, Lesley and I had so much fun! We hit almost all the best rides, and for the first two hours or so it was super empty. Then when it started getting crowded and hot, we were ready to go home and take a nap. Perfect. :)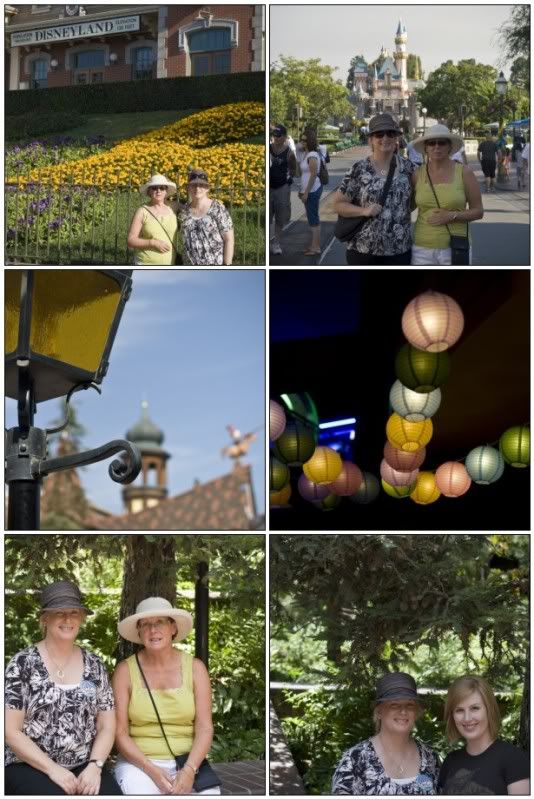 I even convinced them to go on Space Mountain, although now they'll never trust me again. Mwahahaha.
Now, the question is...how do I top this?
In other news, our awesome family friends Ross & Lidvor (she's my godmother) that my parents have known since before I was born arrive from Norway tomorrow. Can't wait!
xo
tagged
birthday,
disneyland,
mom,
surprise
in
personal