Thursday, September 10, 2009 at 07:12PM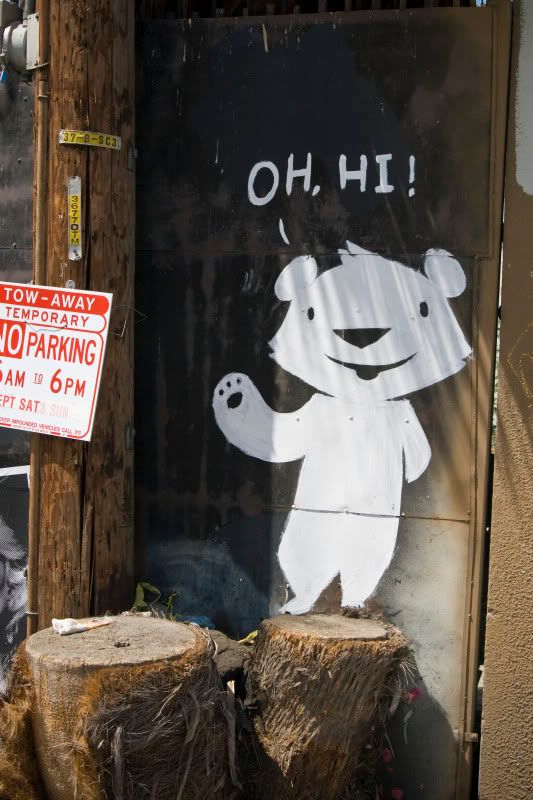 (Found this cute little guy in the alley/parking lot next to Urth Caffe in downtown LA.)
Not that I'm exactly made of money these days, but I thought I'd share a few things that I couldn't help but bring into the fold, or am looking to bring in. :)
Covergirl Lash Blast mascara. I'd read good things about this mascara, and when my normal Benefit Bad Gal Lash started drying up I decided to try a more budget-friendly mascara. I'm pretty darn impressed! Works perfectly as an everyday mascara - I wear it over Clinique's High Definition mascara.
This t-shirt. Cracks me up! And at only $9, I couldn't not order it. I'll be wearing it this weekend's Faded & Blurred photo walk in Pomona.
Dermadoctor Med e Tate anti-sweat wipes. I ordered these a while back, and have been using them anytime I know it's going to be hot (like my mom's birthday weekend). They're a-ma-zing. You can use them anywhere you need a little help in controlling your womanly "glow", as Roger calls it.
Sondre Lerche's new CD, Heartbeat Radio. Remember the awesome music from Dan in Real Life? Yeah, all him. And he's a fellow Norwegian! I haven't actually bought the CD yet, but will once I'm paid (he even made some tracks free to download before the release!). And I think I'll be springing for tickets to see him at the Troub later this month. Who's with me?
That about does it...not so bad, hey? A few things I'm lusting after right now, besides the iPhone, are Bobbi Brown's new eye shadow palette and this awesome dress from ModCloth.
Oh, and that amazing purse from Anthropologie I blogged about a while back? Its now almost half off. Early birthday present, anyone? ;)
xo