Tuesday, September 15, 2009 at 08:18PM
Before I return to regale you with stories from my last-minute trip down to San Diego this past weekend, I thought it was time for another edition of Anatomy of a Purse. Things have changed a bit since the last time, so here we go: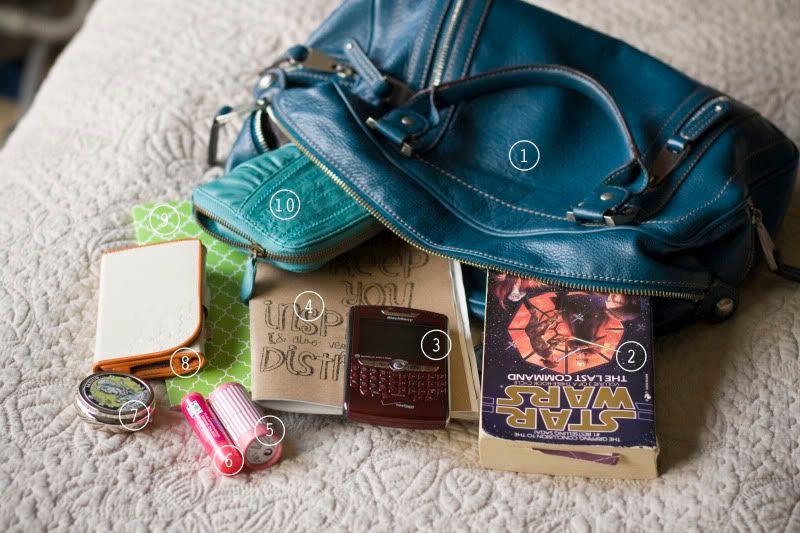 This B. Makowsky purse was a bit of a splurge a few years back, but I did find it on super sale at Macy's. I'm a sucker for butter-soft leather, what can I say? And it looks the same as it did when I first got it, so it was worth it!
Yes, I read Star Wars. My brother managed to convince me based solely on the fact that this particular trilogy takes place right after Return of the Jedi, so Han Solo is still in the picture. :)
The ever-present Crackberry. Although I'm hoping to soon turn that into an iPhone.
I blogged about ordering this Inspiration Journal from Red Velvet Art a while back, and its been in my purse ever since. Such a great pick-me-up!
Crazylibellule and the Poppies solid fragrance in Fruit Sorbet. I can't even describe it, it's so delicious. And at only $18, its way cheaper than any decent bottle of perfume, plus way more portable. I've been getting more and more sensitive to fragrance this year (coinciding with the increase in migraines, interestingly enough), so this is perfect when I want just a little bit.
Bonne Bell Lip Smacker in Red Raspberry. God love Katie for her stash of this, and generously sharing one with me! This stuff smells yummy and gives you just the right hint of color. But you can't hardly find it anywhere anymore, including Amazon! So Katie ordered it by the boxload. We should start a petition to get it back in stores...
I actually found this Mad Hatter Pill Case at Disneyland, of all places. It cracks me up every time because it says "Meds....or madness!"
My iPod touch (a birthday gift from my old boss) in a Belkin case. It looks like they don't make this particular case anymore, but there's similar ones on Amazon. The Blackberry will never be able to touch the ease of web browsing on this thing, which is why I want to consolidate and just have the iPhone. Plus my phone bill will be cheaper!
Super cute recycled paper journal from Target. If I don't write things down, I'll forget!
My beloved wallet from Urban Outfitters. It's a bit worse for wear now (like the zipper doesn't close all the way and the leather is starting to fall apart), but I still love it!
Isn't it funny what the contents of a woman's purse says about her? What's in yours right now?