Tuesday, June 22, 2010 at 06:45PM
It's a crazy thing, for sure. Seeing as how I've been dating, since, oh, longer than I care to admit, it's ridiculously awesome to me how in touch you can stay with someone these days. And I don't mean that in the "I'm Facebook-stalking you" way, but more like "You're far away on a business trip and I can still be just as in touch with you" way. :) Especially because I remember dating someone long distance in high school, before cell phones were affordable, arranging via pager when we could call each other and only being able to talk for a short time because "money doesn't grow on trees, Trude." (Whatever mom, I still have hope.) At least we had instant messenger. Although even that was limited because back then we only had the one family computer! The one good result was we wrote letters to each other, the old fashioned way.
Anyhoo, these days staying connected is second nature, right? Mr. Same Same and I both have iPhones and are avid fans of using teh interwebs for communication, so between phone calls, Twitter, Facebook, blogging, email, texting, iChat and MMS-ing (sending photos/videos via text), we have about 246 ways of keeping in touch and sharing bits of our lives when we're apart. :) Which, half the time, is most of the week, seeing as he lives about 50 miles away.
It also really helps when he's away on business somewhere, like Alaska or Hawaii, which are some of the locations he's been sent to within the last month. (Tough life, right?) Thanks to the genius of technology (say that in your best 1950s instructional film narrator voice) he's able to make me regret my career choice send me photos of what he's seeing, which I absolutely love.
This is a shot of where he was in Alaska yesterday, north of Anchorage. Gorgeous, right?
Or this? This was Hawaii, two weeks ago.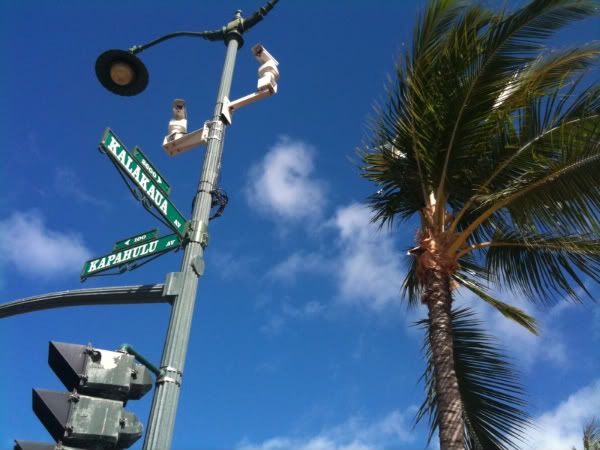 I'm not jealous, not at all...
I love that I can just send him a text or an email letting him know I'm thinking about him and I don't have to worry about interrupting or whether he's still on the clock. And he can do the same when I'm at work.
It's definitely something to get used to and learn how to navigate, this whole idea of modern dating, but absolutely worth the learning curve effort. Especially considering that's how Mr. Same Same and I met. :) Plus, having someone awesome like him makes it easy.
Tonight I'm off to pick him up (from LAX, at 11:30 p.m., because that's the kind of awesome girlfriend I am) and tomorrow we're going to indulge our geekiness and go see this movie at the LA Film Festival. Then Thursday it's Sarah's wedding ceremony! ZOMG!
xo
P.S. I just thought I should note that although this blog makes me sound like I'm 65, I am, in fact, 26. Ha! And the last time I started a relationship with someone was about four years ago, so things are different in so many ways.